Moukaite Stone, Fresh Water Pearl & Filigree Brass Necklace by MilanoStyleVintage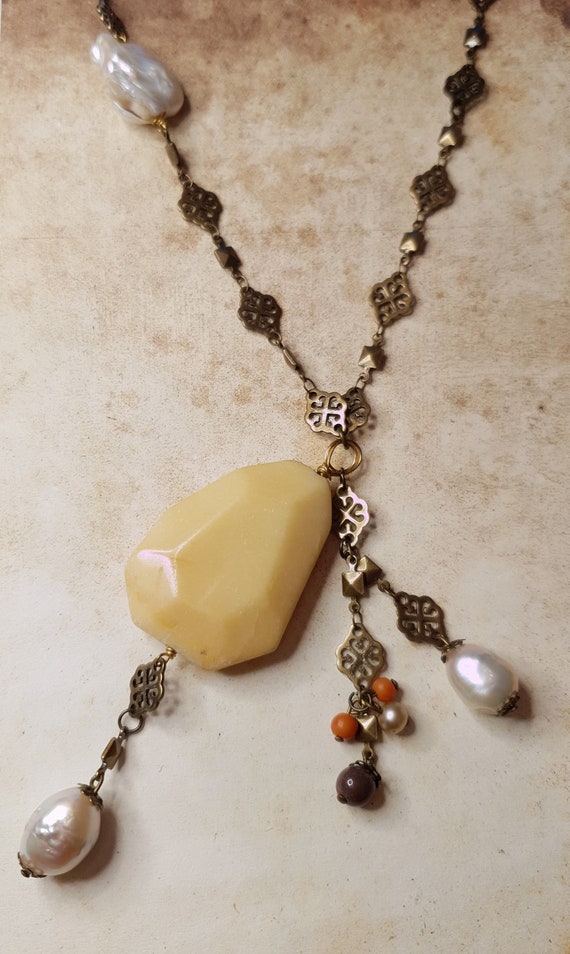 INSPIRATION: I call this my "Treasure Chest" collection, inspired by stones, objects, shells and colors found in a pirate's treasure trove.
HOW I MADE IT: A Moukaite Stone pendant (4 cm) adorned with as small bead cluster and fresh water pearls hanging from a decorative filigree chain.
THE STONE: Moukaite is a protective, healing stone said to bestows strength.
Moukaite helps us to embrace and celebrate new circumstances and helps us when dealing with negative situations. Moukaite helps us to be kind to others and to ourselves.
THE BEADS | I find beads at specialty shops, antique markets and estate sales wherever I travel.
WEAR IT WITH: It goes great with both jeans and a t-shirt or a slinky black dress.
Length: 50 cm
Gift idea
Birthday gift
Valentine's day gift
Mother's day gift
Christmas gift
Shop now on MilanoStyleVintage.etsy.com