---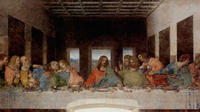 Visit the Leonardo da Vinci's Last Supper (Cenacolo) and discover Milan with the MilanoCard (24h), the discount card for tourist services in the city. Pick up your MilanoCard at the Central Train Station and explore the city at your own pace.
Last Supper Entrance Tickets
Do not miss the opportunity to see the Last Supper fresco, which illustrates one of the most intense moments narrated on the New Testament. The peculiarity of Leonardo's artwork is to capture the moment immediately after Christ's announcement that one of his apostles would betray him, in contrast to the conventional iconography usually reserved for this subject.
In terms of the technique used, Leonardo chose to paint on the wall as like as he usually painted on wood. Indeed recent renovations determined that the artist, after applying a plaster pretty rough, especially in the central part, and laid the main lines of the composition with a kind of preliminary sketch, worked on the painting using a technique typical of panel painting.
This assured a particular richness of the painting and a better color units, a yield of transparencies and lighting effects, and an extreme attention to details, only visible from close range; but the technique was also the origin of serious conservation problems, especially due to the humidity of the environment.
During the years, extensive measures have been actioned to protect Leonardo da Vinci's artwork from further damage. Since 1999, to ensure that the fresco is kept at room temperature, admission has been restricted to a maximum of 25 visitors at a time.
24-hour MilanoCard
The MilanoCard is all you need to access Milan, with its ample offerings of culture, art, enjoyment, and delicious traditional food. Choose among the many services, or call the info-line for help
The MilanoCard includes:
Free Access to all Milan public transports (metro, trams, buses, CityTrain) for 24 hours from the first use.
2 free rides, per person, with personal driver (taxi) in Milan.
Free 24 hour, multilingual helpline.
Initial consultation and at-home or in-hospital medical treatment at reduced charges.
Free entrance to 3 Museums (restrictions apply).
Discounts from 10% to 85% at 20 museums
For Soccer lovers, discounted tickets for football matches: -15% at the official stores of F.C.Inter, AC Milan, FC Juve, and discounts for tours of the San Siro Stadium.
Discounts from 10% to 50% for museums, tours, restaurants, hotels, shops, fast food, airport buses, exhibitions, luggage shipment and much more.
Free printing of 40 photos of your trip.
To be eligible for discounts, you will need to show your MilanoCard at the cashiers.
Starting from: Milan, Italy
Duration: 15 minutes
Download travel images of Italy for your blog