Rustic Boho Chic Smooth Unikite Stone and Copper Chunky Chain Statement Necklace Bohemian Jewelry by MilanoStyleVintage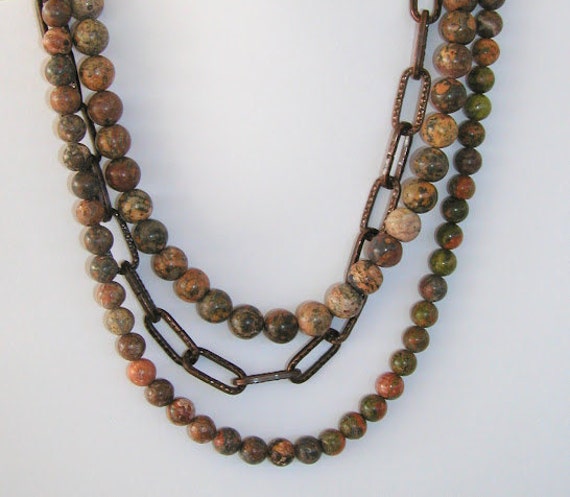 An original, bold statement piece. Inspired by Druid tradition which reveres nature. The earthy, natural tones suit all complexions and can be wore on bare skin or over clothing. An unusual, simple design that can go with everything from a modern tunic or a denim jean shirt.
A three strand necklace made with polished Unikite beads and chunky antiqued copper finished chain link.
Unakite (Unikite) is considered to be a stone of gentle yet powerful energy. Unakite is said to be a good protection stone. Unakite is believed to bring unconditional love of humanity, connection and reunion, often associated with motherhood and fertility.
Code: 94183282
Length: 50
…………………………………………………………………………………………
Artist's note:
(c) I do my "homework" researching origins and allegorical meanings but please keep in mind they are not claims of fact but symbolic meanings and traditional folklore.
…………………………………………………………………………………………
Shop now on MilanoStyleVintage.etsy.com